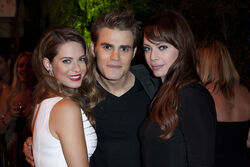 It's CW's Premiere Week! The moment you've been waiting for (the return of SMG of course) has finally come. Along with Ringer, CW is kicking their 2011-2012 season off with 90210, The Vampire Diaries, America's Next Top Model AND Secret Circle this week!
TV Fanatic has some awesome pictures of the stars at the CW premiere event so be sure to check out crossover of shows galore!
Gallery
Ad blocker interference detected!
Wikia is a free-to-use site that makes money from advertising. We have a modified experience for viewers using ad blockers

Wikia is not accessible if you've made further modifications. Remove the custom ad blocker rule(s) and the page will load as expected.